Memo: CRC Members May 17, 2007
From: John V. Fox Seattle Displacement Coalition and Kristin O'Donnell Yesler Terrace Community Council
Cc: SHA and other interested parties
Re: Copy of the language contained in the Rainier Vista legal agreement outlining the role of the Yesler Terrace CRC and its responsibilities and my comments in that regard
The following are provisions excerpted from a federally mediated legal agreement signed by SHA, the City of Seattle, HUD, Friends of Rainier Vista and the Seattle Displacement Coalition which resolved the legal dispute between the parties over the future of the Rainier Vista HOPE VI Project. As part of that legally binding settlement, SHA and the City agreed to create the Yesler Terrace Citizen Review Committee (CRC). The CRC as outlined specifically in that agreement is entitled to:
1. Participate in and comment on development of any redevelopment and renovation plans for Yesler Terrace by the City and SHA
2. Make recommendations to SHA and the City on all land use proposals, housing redevelopment/reconfiguration proposals for Yesler Terrace
3. Make recommendations/comments to SHA and the City that assist in the protection of resident rights
4. Make recommendations to SHA and the City on any variances, rezones, or proposals regarding preservation of low income housing.
5. Full involvement with the city and SHA in any and all planning efforts involving Yesler Terrace
(See attached copy of Section 12 of that Settlement outlining the role of the CRC – and that are responsibilities shared by SHA, the City, and HUD as parties to this agreement)
<![if !vml]>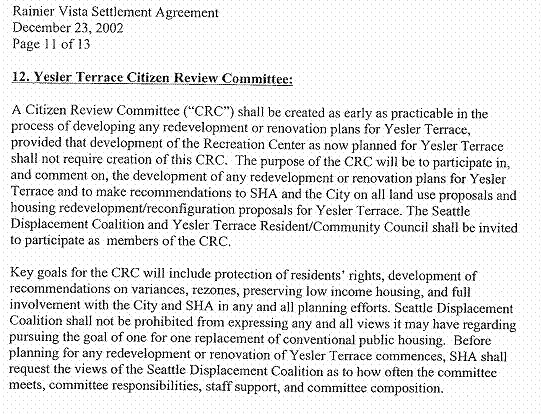 <![endif]>
Issues and Questions related to information CRC needs to make its recommendations and what its charge is under terms of the agreement and its charge – SHA, the City, and HUD's role in making this happen
In keeping with this agreement, there is information we believe is needed by the CRC to fulfill its mandated role. Below we've provided a list of the information we believe is essential for the advisory committee in order to ensure substantive involvement in all important decisions affecting Yesler Terrace's future and what is consistent with terms of the agreement.
1. Any information related to substantive meetings, interactions etc that already have been held or are planned between the City, HUD, other outside parties such consultants, private developers, architects etc, and SHA related to the future of Yesler Terrace especially those where concrete discussions have been held or will be held related to Yesler Terrace's future especially those involving discussion of designs, budgets, rezones, variances, and other issues within the purview of the CRC? If such meetings have already occurred, please inform the Committee and make available memos, materials, agendas, attendees etc so that we may understand and comment on these discussions. Also, the committee must be informed well in advance of any applications or other submittals to be filed with HUD, the City, or others related to demo/dispo or other issues related to planning for YT's future. If any have already occurred please inform us.
2. Other than the consultants hired to assist SHA in running the CRC meetings, has SHA contracted with other consultants to perform conditional assessments at YT? If so, this can be considered, in effect, a planning activity. When such work is to be performed, the CRC should have the opportunity to review and comment on all reports, analyses, and cost models put together by the consultants and before they are finalized. When SHA underakes to hire consultants to perform such work in the future, the advisory group should be informed and given a chance to comment on the scope of work as well as who is selected as the consultant.
3. The committee should be given copies (or at least informative summaries) of all reports done over the last two decades related to current conditions and/or future plans for Yesler Terrace. If only summaries are provided, we should also be told how we may access the full reports at SHA offices.
4. Yesler Terrace has been renovated numerous times. Typically, funding applications for renovations state that the useful life of the systems renovated will be extended for 25 or so years. SHA should have files or all in one file containing the history of all renovations to date, the scope and cost of those renovations, and the funding applications. HUD should have copies of any applications involving HUD funding. The City may also have records. Back in the late eighties to mid nineties, the City had extremely rigorous grant application requirements for its NOFA's, with all sorts of detail required. If any City levy funds went into YT during that period, there would be a lot of data in the City's files. We would like SHA and the City to make available at least summaries of this information and give the CRC access to the full information as soon as it is possible.
5. The CRC needs to see and have the opportunity to review and comment on any potential changes in eligibility requirements, rent and income policies etc related to Yesler Terrace that may accompany redevelopment of the site and well before they occur. If the project is to be financed all or in part with tax credits or through private financing and/or partnerships, LLC's etc this would affect rent policies, income requirements, other eligibility requirements. Well before entities are formed and commitments agreements are made with HUD, the Finance Commission, or others, these proposals must be brought before the CRC. Have any of these discussions occurred to date and what was their content? When will future discussions occur and the CRC should be involved? The CRC also needs a full disclosure of exactly how any shift from traditional PH units to tax credit or other financing mechanisms will affect resident access. A full CRC meeting with materials drawn up before hand probably should be given over to this purpose in the near future with opportunities for the CRC to comment make recommendations.
6. To date land has been acquired around the Yesler Terrace site and SHA has in public meetings indicated its intent to include these recently acquired properties within a new and larger Yesler Terrace footprint. Any future redevelopment plans at Yesler Terrace according to comments already made by SHA would include redevelopment of these adjacent properties. The CRC needs detailed information on these acquisitions, maps or more information on where they are located, current uses on these sites, whether existing housing is located on these sites and at what rents, what the cost of these acquisitions are etc.
The CRC is entitled under the agreement to comment and make recommendations specifically on the question of whether plans for these sites may be combined with plans for YT and if so, then the CRC also should have the opportunity to comment specifically on what properties will be included and what new boundaries will be used in the expanded footprint and other issues related to these acquisition. For example if the expanded footprint includes existing small businesses or housing, the Committee should be given the opportunity to comment on that – if that is appropriate and if so what conditions should accompany such acquisitions.
click here to return to main page
click here for more in Yesler Terrace